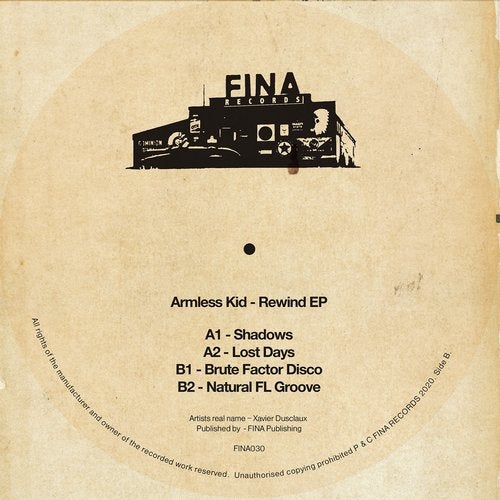 ARTIST Armless Kid
RELEASE TITLE Rewind
LABEL Fina Records
CATALOG FINA030
GENRE House, Deep House
AUDIO FORMAT MP3 320kbps CBR
RELEASE DATE 2020-06-26
MP3 NiTROFLARE -or- ALFAFILE


Armless Kid

- Brute Factor Disco (Original Mix)

05:57 132bpm Amaj

Armless Kid

- Lost Days (Original Mix)

08:06 130bpm Amin

Armless Kid

- Natural FL Groove (Original Mix)

06:58 120bpm A#min

Armless Kid

- Shadows (Original Mix)

05:12 123bpm Emin
After nine years of quality assured house music, FINA Records hits release number 30 with another of its forward looking offerings, this time from red hot young Frenchman Armless Kid.
Well known on his native Paris circuit, Armless Kid is now breaking out on the wider international scene. He's released his bustling, heart felt house grooves on Rekids and the legendary Classic Music Company, is a Rinse FM regular and has an anything goes approach that has won him high profile fans like DJ Harvey and The Black Madonna.
The super exciting Armless Kid is the perfect artist to make this milestone for FINA Records such a special one.
https://www.beatport.com/release/rewind/2936516
REVIEW
Last year hotly tipped deep house producer Armless Kid returned to action after a lengthy lay-off via must-check EPs on Vertv and Let's Play House. Here the rising star delivers another essential four-tracker, this time for Simon Morrell's reliable label FINA Records. There's a pleasingly "classic" deep house feel to opener "Shadows" - think swinging beats and warm, summery chords - and the track that follows it, "Lost Days", a more bumpin' and bass-heavy affair that makes use of extensive samples from Minnie Ripperton's "Inside My Love". Elsewhere, "Brute Factor Disco" turns a rubbery and colourful synth boogie jam into a jaunty house workout, while "Natural FL Groove" is a chunky deep disco-house workout tailor-made for outdoor dancing sessions.