CONFORM RE-TOUCHED SERIES VOL.II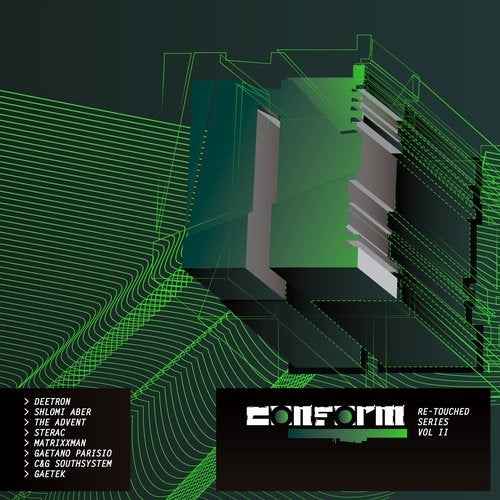 ARTIST VA
RELEASE TITLE CONFORM RE-TOUCHED SERIES VOL.II
LABEL Conform Records
CATALOG CNFR026
GENRE Techno (Peak Time / Driving / Hard)
AUDIO FORMAT MP3 320kbps CBR
RELEASE DATE 2020-06-26
https://www.beatport.com/release/conform-re-touched-series-vol-ii/2973249
Gaetano Parisio

- Outset (Deetron Remix)

06:23 109bpm Amin

The Advent

- Watch Out (Shlomi Aber Remix)

06:02 138bpm Amin

Gaetano Parisio

- Advanced Series Vol. I (The Advent Remix)

06:20 135bpm Amaj

Gaetano Parisio

- Last Three Months (Sterac Remix)

06:09 136bpm Fmaj

C&G Southsystem

- Dual EP B1 (Matrixxman Nihilist Mix)

05:44 140bpm Dmin
More than 20 years after it was first launched, Gaetano Parisio has revived his well regarded techno label Conform Records. The new era starts with a new CONFORM RE-TOUCHED SERIES which will be released in four volumes over the coming months and contain classic Conform tracks that have been re-edited by some of techno's most influential artists. The first release is out now and contains four tracks plus one digital only bonus with heavyweights Ben Sims, Mark Broom, James Ruskin, Truncate and Stojche all stepping up.
First up is Swiss maestro Deetron, who has been laying down his sleek grooves for many years. His take on Outset is a quick techno roller with hypnotic drums and icy pads. Next is the Be As One label boss Shlomi Aber, a long time titan of the scene who hails from Israel. His urgent remix of Watch Out is layered up with rubbery drums and mind melting synths to make for a real cosmic trip.
The Advent has long been synonymous with hard hitting techno as a live act and studio wizard. His most recent album was an excellent electro exploration. Here he flips Advanced Series Vol.1 A1 into a metallic banger with paranoid synths circling around the groove. Sterac goes last and is the Dutch legend Steve Rachmad in his techno guise. His rapid remix of Advanced Series Vol.1 A1 is riddled with rubbery bass and molten synths and takes you into the future. Last of all, the digital only bonus ups a remix by Matrixxmann who offers the dark and driving Nihilist mix.
This is a fantastic way to relaunch a much-missed techno label and marks the continuation of a great new series.
This content is for Registered Users Only