Beatamines, Johan Mila - Balance of Texture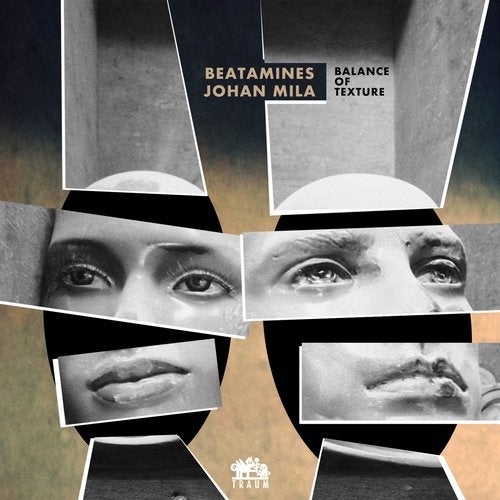 ARTIST Beatamines, Johan Mila
RELEASE TITLE Balance Of Texture
LABEL Traum
CATALOG TRAUMV243
GENRE Melodic House & Techno
AUDIO FORMAT AIFF Lossless 1411kbps / MP3 320kbps CBR
RELEASE DATE 2020-06-19
MP3 NiTROFLARE -or- ALFAFILE
AIFF NiTROFLARE -or- ALFAFILE


Beatamines, Johan Mila

- Arrive (Original Mix)

04:40 118bpm Cmaj

Beatamines, Johan Mila

- Balance Of Texture (Original Mix)

06:43 124bpm Fmaj

Beatamines, Johan Mila

- Esprit (Original Mix)

07:17 124bpm Fmin

Beatamines, Johan Mila

- Human Error (Original Mix)

03:35 90bpm Gmin
Beatamines and Johan Mila have teamed up for their first solo release on Traum.Both artists have released remixes for our label and we now felt it was time for a solo.
Beatamines needs not much of an introduction for German techno fans since he has been an active member of the dance scene for more than 10 years during which he has released quality productions and played on a lot of top mayor events.
His partner Johan Mila is known for his deep/dark and mystic releases and is the perfect partner here in this unique alliance. Johan Mila has shared the stage with Maceo Plex, Seth Troxler, Jamie Jones, Miss Kittin, Pig & Dan, Dino Lenny, Renaat Vandepapeliere and others.
The EP starts with the intro track "Arrive" which has a slight melancholic touch, is very cinematic as well and also is a bit futuristic. It has an energetic side to it that also makes it a clubby piece of music with its waves of rising energy levels coming at you. The blend is very unique and challenging and might be interesting also for fans of our last release with Zoi.
"Balance Of Texture" answers with a passage of beats and glitches before introducing some interstellar beams of sounds that cut through like a laser sword or a mighty synth pad in a disco track from the 70ies!
The track starts reluctant and that is great because it manages to build up a tension in a sublime way before its sets free a crawling melody and a string compartment which takes over for split second and then there is silence... total silence Is this Krautrock music? Sometimes there are moments when the track has exact this magic of experimentalism for the sake of it. Well these moments are short but memorable and do connect quickly to a proper arrangement and shift to melodic techno again.This is a great hybrid of styles and if you think you heard it all be prepared more is coming step by step.
"Balance Of Texture" is a giant of a composition and still has all the qualities to work on the dance floor.
How did this piece of music develop? This track has a cool mystic edge that sets free a lot of phantasies.
"Esprit" captures the feeling of the track by its name very well.
The track is a bit of a soundtrack somehow feels like a take on a lonely and remote place like a ghost town. Great wailing sounds give it this 70ies touch remember the last scene of the original movie "Get Carter" on the beach... and you know whet we are talking about.
But the track is not by any means one-dimensional or a mono mood but rather the opposite is the case. It picks up diverse influences you would not believe could be united and brings them together to create a firework of emotions.
The outro track is "Human Error" now makes it very clear the whole EP is somehow a 70ies soundtrack to a fictitious science fiction movie. Well that is our impression and we did not get any information here confirming that. This track here holds images your will only get from a band such as AIR. Wonderfull round up of a great EP.