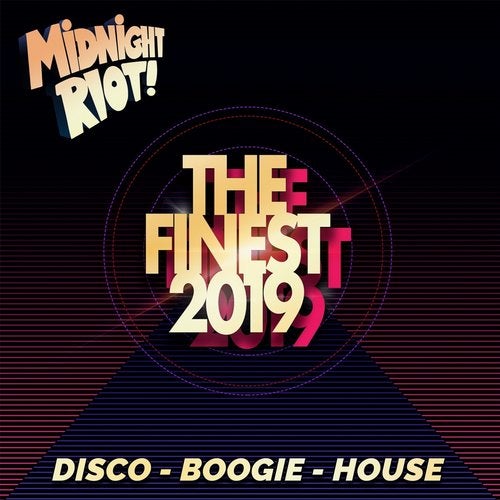 ARTIST VA
RELEASE TITLE The Finest 2019
LABEL Midnight Riot
CATALOG MIDRIOTFINEST2019
GENRE Nu Disco / Disco
AUDIO FORMAT FLAC Lossless 16bit
RELEASE DATE 2019-12-13
https://www.beatport.com/release/the-finest-2019/2785764
26 TRACKS:


2019 has been an incredible year for the mighty Midnight Riot... rightly considered as one of the front runners of the nu disco generation, it felt the perfect opportunity to peruse through their hits, gems & body-movers courtesy of their retrospective The Finest 2019 release.
REVIEW
As the year comes to a close, labels are naturally offering up celebratory compilations showcasing their strongest releases of 2019. The latest comes from Midnight Riot, a prolific imprint that rarely fails to serve up the fieriest contemporary disco heat. As you'd expect, the 26-track selection includes a blend of superb original productions (the nu-disco soul warmth of Jack Tyson Charles' "Glory", Alton Edwards sweaty, synth-bass propelled boogie-house gem "I Just Wanna Spend Time With You", the swirling disco headiness of Arthur Baker's "Reachin' Out") and re-edits/reworks (Dr Packer's gospel boogie revision "The Power", C Da Afro's disco-funk slammer "Party Purpose" and the suitably celebratory "Boogie On Time" by Ladies On Mars). As you'd expect, the quality threshold remains impressively high throughout.
GMGN

- That Feelin' feat. Chaz Bronz (Original Mix) 04:31

124bpm Fmaj

Pietro Nicosia, Woody Bianci

- It's Hot (Original Mix) 05:40

122bpm Amin

Michael Gray

- 24 7 People (Original Mix) 07:00

124bpm A#maj

Dr Packer

- The Power (Original Mix) 06:04

118bpm Dmaj

C Da Afro

- Party Purpose (Original Mix) 06:20

122bpm A#min

Arthur Baker

- Reachin' feat. Minnie Gardner (Hifi Sean & Yam Who? Edit) 07:14

126bpm D#min

Modento

- Sunshine (Vertigini Remix) 07:00

121bpm G#maj

Tommy Glasses

- Feel Good (Original Mix) 04:40

124bpm Bmaj

Nick Reach Up

- Dreaming feat. Jazz Morley (Qwestlife Remix) 07:37

118bpm Bmin

Bernadette Trax

- Setting Sun (Yam Who? & Jaegerossa Remix) 07:06

124bpm D#maj

Raquel Rodriguez

- Night's Over (Redux Inc Da Club Mix) 08:10

117bpm Amaj

Danny Kane, Natasha Kitty Katt

- Ascend to Love (Original Mix) 05:12

120bpm Amin

Lenny Fontana, Shirley Lites

- Fire (Ron Carroll's Disko Vibe) 05:58

125bpm Gmin

Babert, Pink Flamingo Rhythm Revue

- Good Lyfe (Alax Dixon Remix) 06:19

126bpm Fmaj

Record Playerz

- Hi NRG (Inflagranti Remix) 05:53

126bpm Cmaj

Ladies On Mars

- Boogie on Time (Original Mix) 08:20

120bpm Fmaj

Never Dull

- Easy Love (Original Mix) 06:53

117bpm D#min

Alton Edwards

- I Just Wanna (Spend Some Time with You) (Michael Gray Remix) 08:37

122bpm Dmaj

Motte

- Freakin' Baby (Original Mix) 06:34

120bpm A#min

Twism

- What I'd Do (Original Mix) 07:00

120bpm Gmaj

Ziggy Phunk

- Boogie Movements (Original Mix) 06:45

126bpm C#min

Doctor Soul

- I Like the Way You Move (Original Mix) 08:29

124bpm Amin

Get To Know

- Better Love feat. Andre Espeut (Babert Remix) 05:33

118bpm Emaj

Bad Bambino

- Hit the Road (Original Mix) 03:45

117bpm Bmin

FSQ

- I Zimbra feat. Dolette McDonald (Alternate Mix) 03:26

115bpm Amin

Jack Tyson Charles

- Glory (Danny Kane Mix) 03:54

107bpm A#min
Download: NiTROFLARE - ALFAFILE